FALL 2015 SOCCER
Please contact your coordinator for sign-up details. We look forward to another great season!
—————————–
PPSA Summer Soccer Clinic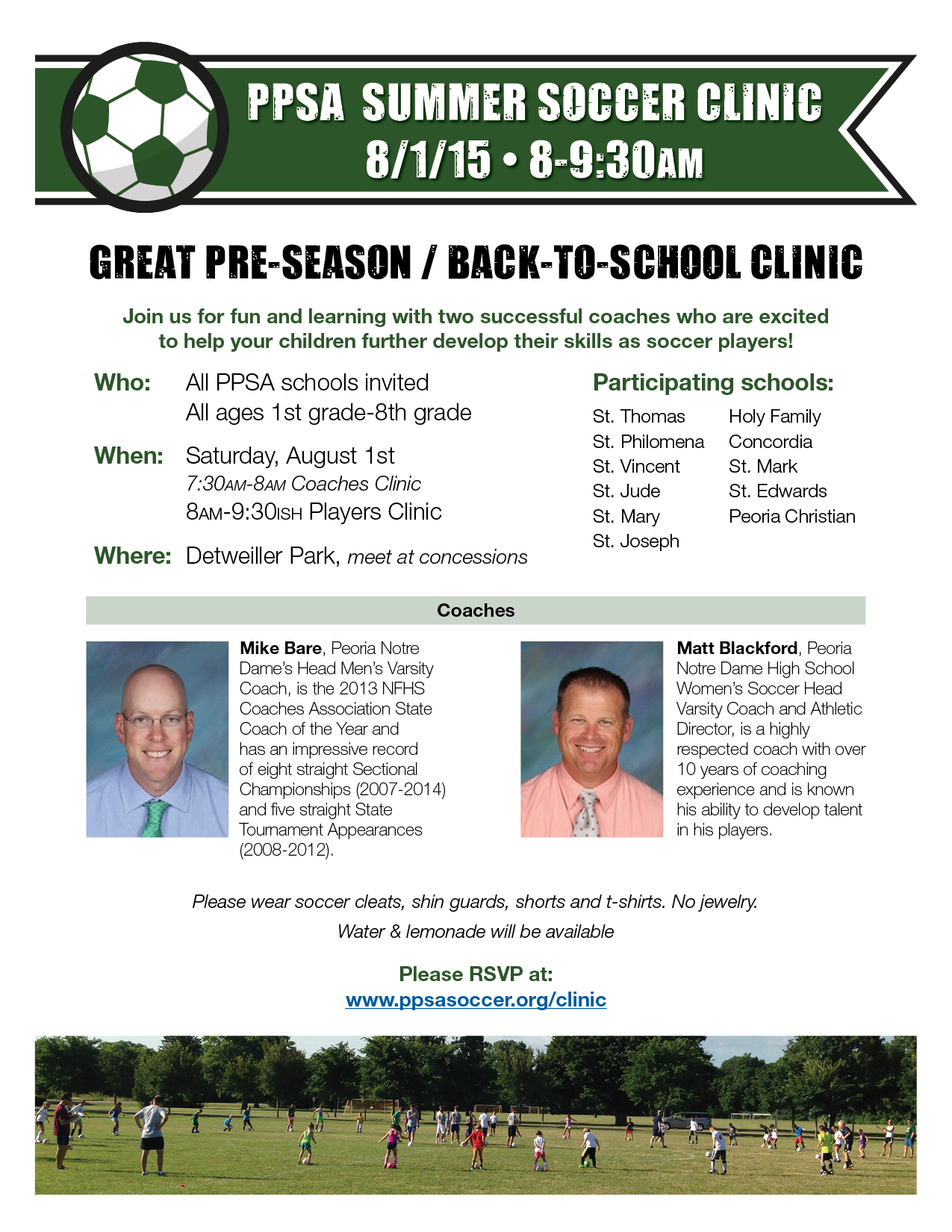 Who:
All PPSA schools invited – ages 1st-8th grade
When:
Saturday, August 1 8am-9:30ish (Coaches Clinic: 7:30am)
Where:
Detweiller Park (meet at concessions)
Featuring Mike Bare & Matt Blackford from Peoria Notre Dame Soccer.
For more information and to sign up, visit http://ppsasoccer.org/clinic
—————————–
SIDELINES
Please note. There is a designated sideline for teams/coaches and a separate one for fans. These will be marked by signs and need to be respected. Fans and teams will not be allowed to share sidelines, even with the fields side by side.
 —————————–
SOCCER GOAL SAFETY
Please see Peoria Park District Soccer Goal Procedure document for complete soccer goal safety.
HOT WEATHER POLICY
In event of excessively hot weather, the following recommendations will be followed by the PPSA.
Heat Index Recommendations
Up to 99° -
Normal Play with current 2 minute breaks between 1st and 3rd quarter, 2 minute break
between half's.
100° – 105°
Mandatory reduction of 2 minutes per quarters at every level of play. 1-4th grades will
reduce to 8 minute quarters, 5-8th grade to 10 minute quarters. Mandatory two-minute water
breaks per quarters and half.
105°+ Suspend Play
PPSA coordinator or officer will notify game officials and coaches of any changes to time of play related to heat.
—————————–